SEHAB Roundtable Template––November 2017
SEHAB Member: Paul Cipywnyk
Area: North Side Fraser River Burnaby to Mission
Community Advisor:  Scott Ducharme
Meeting Date: Nov. 3-5, 2017
 Note: A few groups have said they will provide up-to-the-meeting spawner data. . .

Identify up to 3 succinct issues related to SEP that you or your community would like SEHAB to take to DFO?
Issue

Where should SEHAB direct this concern?

Actions already taken by Community or DFO?

Possible solutions?

SEHAB opportunity and Work Plan fit*?

Issue 1:

 

Clearcutting of Dikes

Provincial authority

 

Can we review dike BMPs, and come up with some solution that respects the importance of habitat for salmon and overall biodiversity?

 

 

Issue 2:

Coho Pre-Spawn Mortality

DFO, EC

Notified CA.

CA trapped a sick coho and sent for testing, no definitive results

Speed implementation of infiltration, including roadside swales, infiltration ponds, etc. ISMPs are sitting on shelves, with little to no work actually done as years go by.

 

Issue 3:

ISMPs are not being implemented

DFO, Province to bring this up with municipalities

 

Take the documents off the shelf and start putting habitat restoration and protection shovels in the ground

 
*SEHAB Work Plan/Sub Committees are: Wild Salmon Policy (Stock Assessment, Habitat), Aquaculture, and Capacity & Core Funding
Stories: Highlight important successes and challenges in your area that you would like to discuss this meeting. This can also be a place to provide background for the issues listed above.
Topic/Issue: Improving communication with our municipality
Successes: Meet often with individual staff members. Have informal contact at events such as Environment Week and Rivers Day           
Challenges: Have been trying to set up a multi-department meeting (Engineering, Planning, Parks) for nearly a year. City is working on it…
Topic/Issue: Implementation of ISMPs (Integrated Stormwater Management Plans) which by mandate are to focus on watershed health.
Successes: Stewardship volunteers were included in developing ISMPS
Challenges: As the years roll by, there has been nearly no implementation of these plans.
Submissions and Comments from Community Groups:
Byrne Creek Streamkeepers
As mentioned in the above sections, a key concern is clearcutting of the Byrne Creek dike, which for decades was allowed to go wild, and provided shade for salmon and other fish, and habitat for all sorts of other species. Since approximately the bottom half of the creek is diked, this is a significant issue.
We are having some frustration with "training new municipal staff" who come in with new ideas that have on occasion set back the efforts of volunteer stewards. This includes removing all gravel from the Byrne Creek sediment trap, and all gravel that had been set aside so that volunteers could replenish the artificial spawning channel, which has no natural recruitment. There was a failure in communication in this case – stewards assumed the sediment pond cleanout would take place in the same way as it had for decades, but did not realize that new staff in charge were not familiar with the role of volunteers and the upkeep of the artificial spawning channel, which has fallen on volunteer efforts despite the original design specs which call for regular maintenance.
Volunteers are also frustrated at the pace of implementation of ISMPs and the City's new Environmental Sustainability Strategy. While steward are glad that we were included in the development of these important guiding documents, we have seen next to no actual implementation as the years go by. Part of this may be due to our municipality's direction of resource to the pipeline issue, which seems to have left few resources for other areas.
Stoney Creek Environment Committee
If you think it appropriate, would you be able to show our video about Road Salt and Salmon?   http://scec.ca/video/road_salt_and_salmon.mp4

Things I learned from this is how the Provincial Emergency Program works and that under the current regime, DFO has no jurisdiction in this kind of chronic contamination.
Alouette River Sockeye Reanadromization Project (A.R.S.R.P)
The Alouette River Management Society (ARMS) is a member of the ARSRP committee, a group which is dedicated to achieving fish passage over the Alouette dam for sockeye salmon and other resident fish species which would use the Alouette Lake for spawning and rearing. This group meets each year in spring and fall to work on projects that are currently aimed at researching the viability of restoring Alouette sockeye salmon above the Alouette dam.  ARMS has been advocating for a fish ladder over the Alouette dam, to reconnect the river and lake system since 1993.
The ARSRP committee successfully applied for funding in 2016 to the Fish and Wildlife Compensation Program (FWCP) for Year 1 of its eleven-year plan to determine the feasibility of restoring a self-sustaining sockeye salmon run back in the upper Alouette River watershed. The group was approved for approximately $137,000 to run its adult sockeye enumeration, kokanee smolt enumeration, and a spawning habitat mapping of the Alouette Lake in the 2017-2018 project year.   The Fish and Wildlife Compensation Program is a partnership between BC Hydro, the Province of British Columbia, Fisheries and Oceans Canada, First Nations and public stakeholders to conserve and enhance fish and wildlife impacted by the construction of BC Hydro dams.
This September, the ARSRP group was invited to present its results so far to the FWCP review panel. Greta Borick-Cunningham (ARMS), Debbie Miller (Katzie First Nation) and Dr. Brett Van Poorten (Ministry of Environment) were well received by the panel and were happy to answer questions from individual members of the board. The ARSRP partnership includes a long-standing commitment from the Ministry of Environment, Katzie First Nation, Fisheries and Oceans Canada, LGL Limited, BC Corrections and BC Hydro. The group will be submitting its funding application again this October to the FWCP for year 2 of this plan.
Where it all started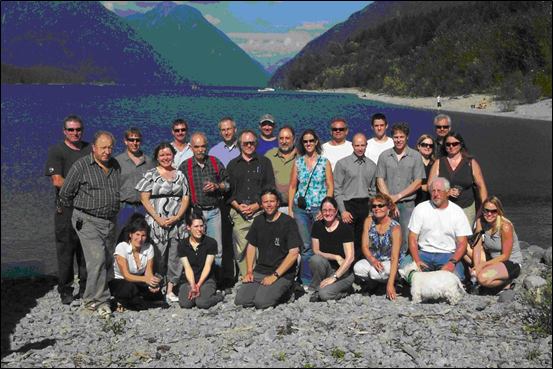 The first sockeye release occurred in August 2007. Six sockeye were released into the Alouette Reservoir, made possible by the following partnerships: Fraser Regional Corrections, Allco Fish Hatchery, ARMS, Ministry of Environment, Department of Fisheries and Oceans, BC, Katzie First Nation.
The Alouette River Management Society (ARMS) is dedicated to proactively protecting and improving the Alouette Watershed and surrounding areas by creating a healthy environment connecting parks, trail systems, public centres and waterways.   Volunteer supported, ARMS is involved in watershed inventory and monitoring, habitat restoration, public awareness and adopt-a-stream, liaising with all levels of government and private landowners, and working towards the protection of aquatic habitat. ARMS offers environmental education programs including fieldtrips, classroom and habitat programs, and day camps.
For more information about the Alouette River Sockeye Reanadromization Project, or the Alouette River Management Society, please contact Greta Borick-Cunningham, Executive Director at This email address is being protected from spambots. You need JavaScript enabled to view it..